Advanced Japanese was the most satisfying yet also the most difficult phase of my journey in studying the Japanese language. My positive experience with Intermediate Japanese inspired me to go as far as where my abilities could take me, and that meant aiming for the highest level of proficiency (JLPT N1).
While most Japanese language schools in the Philippines offer only basic and intermediate courses, Nihongo Center Foundation (NCF) is one of the few institutions, if not the only one, that consistently offers JLPT N1 review classes and other advanced courses such as business Japanese and translation. These are all well suited to those who have attained JLPT N2 proficiency.
In this entry, I will discuss my experience in the final leg of my studies at an esteemed Japanese language institute. The following areas are some of the topics that are covered by this article:
The course content and coverage of the JLPT N1 review class;
The types of class activities and materials for advanced Japanese; and
The learning experience with a native Japanese instructor in an online setting.
I was one of the alumni of NCF who finished all its courses and passed the five JLPT levels during my time studying there. I entered NCF in February 2018 without any background in Japanese then passed JLPT N1 in July 2022.
This is the third and final entry of a three-part series of blog articles covering each stage of my Japanese language studies: basic, intermediate, and advanced.
---
A Long History of Advanced Japanese Education
The Philippine Institute of Japanese Language and Culture (PIJLC), established in 1992, is the institution that offers higher-level Japanese courses alongside its school counterpart which handles the basic courses, NCF.  For simplicity, NCF and PIJLC can be regarded as one and the same school.
Both these schools were founded by the former Philippine Ambassador to Japan, Amb. Jose S. Laurel III, and are jointly operated by the same management. In addition, they are both affiliate organizations of The Philippines-Japan Friendship Foundation, which is currently the host institution of the JLPT in Manila.
One of the signature courses of NCF is the JLPT N1 review class. It is taught by Prof. Kenjiro Ogata since the class first opened around 20 years ago.
Ogata-sensei ("Sensei") was assigned as a grantee of the Japan Foundation to provide and promote high-level Japanese language education for Filipinos aspiring to study in Japan. Since his arrival in the Philippines, he has helped hundreds of students reach their aspirations in the Japanese language.
Because of the exponential difficulty curve of the JLPT, obtaining the elusive N1 certification is the toughest challenge for Filipino learners. But with Ogata-sensei's N1 review class—on top of commitment and perseverance—they can increase their likelihood of passing the exam.
---
JLPT N1 Review Class of NCF
Japanese language learners who have passed N2 and are aiming to pass JLPT N1 can enroll in the N1 review classes offered by NCF. Under the instruction of a native Japanese teacher, they will be equipped with the knowledge and skills to pass the most challenging level of the JLPT.
Course Content and Materials
The sessions in the class are centered on building vocabulary and improving the reading comprehension skills of students. Materials such as Shin Kanzen Master (新完全マスター) will be used for this purpose. Students are more than welcome to ask questions during and after class.
In addition, students will be given a mock exam every week in a face-to-face class within the month leading to the actual JLPT. (It is still unknown at this point how the mock exams can be administered online.)
Since this is the most advanced Japanese course, the language of instruction is Japanese.
Class Schedule
This course is offered either once or twice a year, and it runs from January to July and/or from September to December. During this period, students take classes every Saturday at the Manila campus of NCF.
The total number of hours may vary depending on the start date of the class, but it is usually between 50 and 60 hours, with each session at either 2 or 3 hours in the morning.
Class Size
To maintain the quality and effectiveness of the classes, a total of 8 slots are available. Those who are planning to take the N1 review class are encouraged to apply as early as possible to secure their slot.
Prior to the pandemic, about 5 to 8 students enroll in one class, but since the N1 review has shifted to an online format, more students have joined. This led to the adding another 8-person class which is held in the afternoon.
Course Fee and Financial Aid
The course fee for N1 review is Php15,500, inclusive of materials. Recently, this was reduced to Php12,500.
N2, old L1 and L2 passers who have not yet passed N1 are entitled to a 50% discount which will be covered by the Kenjiro Ogata scholarship fund. As a result, these students will only need to pay Php7,500.
Applicants who wish to avail of the discount will need to submit a copy of their N2 certificate. For N2 passers of the most recent JLPT, they can submit instead the online score report while waiting for the official certificate.
Meanwhile, those who have passed N1 but still wish to take this class will have to pay the regular course fee.
Changes Moving Forward
The COVID-19 pandemic forced NCF to stop offering the N1 review class in March 2020, and it only resumed in January 2023. This time, it has adopted the online learning format.
Future N1 classes could be conducted online because N2 passers from around the world can attend the class. (As of this writing, two of the class participants reside in Japan.) The only problem with an online class, however, is that Internet connectivity is not so stable in the Philippines.
Another consideration is a hybrid mode of class. For example, it can be conducted 80% online and 20% face-to-face (mainly for mock exams).
There is still some uncertainty as to the format of the N1 review class post-pandemic, but since its resumption, it has opened more opportunities for highly motivated learners to continue their journey in attaining the top level of Japanese proficiency.
---
Advanced Japanese at NCF: My personal experience
I originally intended to enroll in the N1 review class after I finished taking the final Intermediate class of NCF, but the strict lockdown at the beginning of the pandemic never made it possible.
I didn't want the situation to discourage me from continuing my studies, so I decided to extend my weekly one-on-one tutorials with Sensei instead. Welcoming my request, Sensei curated a syllabus that is tailor fit to my needs and interests in studying Japanese.
We've had a variety of activities during my tutorials in advanced Japanese which I will explain in the succeeding sections of this article. Those who are doing self-study for JLPT N1 might find this a useful reference.
Also, I described my tips and study tools for N1 self-review (outside of these one-on-one tutorials) in a separate article. This is the other half of my preparation for JLPT N1, so I recommend taking a look at both if you want to follow my study program.
Reading Books and Articles
Where basic Japanese is focused on the building blocks of the language, advanced Japanese is focused on developing a strong comprehension.
For this reason, we spent most of our time in class reading. Thereafter, we would discuss our impressions and opinions on the text. I would also ask Sensei about expressions in it that I found difficult to understand. Such discussions became conversation practices as well.
The point of the reading exercises and assignments in class was not simply to check my understanding. Reading was the primary method by which I could learn new vocabulary and grammar. I believe it is far more effective than memorizing lists of words without context.
Also, at N2 and N1 levels, there are many times when vocabulary and grammar become indistinguishable. Thus, they are more appropriately called "expressions." Oftentimes, these expressions cannot be found in JLPT reviewers because context is necessary to understand them.
It is important, then, to allocate time to reading because simply studying kanji, vocabulary, and grammar separately will not be enough. For tips on how to master the reading comprehension section of the JLPT, you may check my article here.
Textbook
We used the book entitled Ryuugakusei no Tame no Jidai o Yomitoku Joukyuu Nihongo (留学生のための時代を読み解く上級日本語). It comes from the publisher of the Minna no Nihongo (みんなの日本語) series for basic and intermediate Japanese.
Among the many books on advanced Japanese, Sensei chose this one as it serves our purpose very well: to learn new expressions while strengthening comprehension. Indeed, this book is well-rounded as it provides exercises on conversation and composition as well.
The book contains 26 chapters organized into 6 sections based on themes that define modern Japanese society: daily living, aging population and declining birthrate, education, business and employment, science and technology, and natural environment.
Each chapter begins with a reading passage of about 3 to 4 pages long. In the succeeding section, the same reading passage appears but with furigana on it. Important expressions are highlighted on the right side of the text. This section provides readers a convenient method to confirm their understanding and take note of essential words and phrases. (Here's a nice sample if you want to check it out.)
For new words or kanji that I encounter in the passage, I highlight them and make my own review list in the Quizlet and Kanji Study apps. I talked more about these apps in my article about N1 self-review, but you are free to choose other tools to learn vocabulary and kanji.
Finally, it is important to read the entire passage in the first section of the chapter without looking up difficult kanji and expressions as you go through it. You should develop the essential skill of "understanding by context."
Online Articles
After we finished reading all chapters in the textbook, we shifted to reading online articles. Rather than selecting another textbook aimed at foreign Japanese learners, we decided to go with material aimed at native Japanese.
NHK News Web Easy
Usually, at the start of class, we begin with a warm-up activity by reading news articles on NHK News Web Easy.
As I was busy with my (non-Japanese) job for most of the week, it can be quite challenging for me to change gears from an English/Filipino mindset into a Japanese one. NHK News Web Easy served as a nice bridge between the two, preparing me for higher-level Japanese.
NHK News Web Easy is actually accessible for N3 and even N4 learners. Oftentimes, Japanese news articles are filled with difficult kanji and words, but that is not the case with this site. You can toggle furigana on and off. As a bonus, the articles contain audio if you want to practice pronunciation, speed, and intonation.
NHK News
NHK News contains the latest information on Japan, covering a wide range of topics such as local and international news, business, lifestyle, entertainment, and sports. As these are aimed at the Japanese audience, there are no tools to aid in reading.
For our classes, Sensei gave me the liberty to select the article that I would like to read in class, although there were times when he chose it himself. Nevertheless, we always focused on the news (usually local), business, and lifestyle articles as these were the most interesting to me.
JUSNET Career
Coming from a business background, I wanted to improve my skills in reading business Japanese, particularly in emails that use honorific language or keigo.
Also, the JLPT usually contains one passage about business communication in the reading section, so familiarizing myself with the various kinds of business correspondence, including the most common formal expressions, would be immensely helpful.
Although JLPT reviewers do have some exercises on business emails, they are limited. Thankfully, there are websites that contain various sample emails categorized into the type of purpose. JUSNET Career is one of those websites.
JUSNET Career is managed by JUSNET Communications, a company that provides career support for accountants, tax consultants, and finance professionals.
That said, there are a lot of informative articles about accounting, tax, and finance on that website too. We read some of those articles for my personal development, exposing myself to words that are relevant to my profession.
Others
We did not limit ourselves to the articles contained in the above websites, we explored a lot of topics from other sources too.
Sensei will simply search for articles based on a topic of interest, read some of the resulting articles, and select one or two among them for me to read in class.
That said, there is no limitation on the type of article that is best for learning; what is most important is developing an appreciation for reading. So feel free to read articles that you'll enjoy!
Vocabulary and Kanji Drills
Although I primarily learned new vocabulary and kanji through reading, we did have drills to help me review or even learn new words that I have not encountered yet.
In the last 4 or 5 months prior to the JLPT, our classes started with an intensive vocabulary drill. For each drill, Sensei had me read aloud 80 words written in kanji. After the whole drill, we would confirm whether my readings were correct.
These drills are the online supplementary exercises to the book, Nihongo Gakushuu no Tame no Yoku Tsukau Jun Kanji 2200 (日本語学習のためのよく使う順漢字2200 or simply "Kanji 2200"). This is actually a great reference book on kanji, and they are arranged based on usage, beginning with the most common ones.
The vocabulary in the exercises covers a wide scope, from fairly easy words at the intermediate level to more advanced ones, especially yojijukugo. At N1, you are expected to know vocabulary across all levels, so this is actually a good exercise both to refresh your knowledge and to challenge yourself.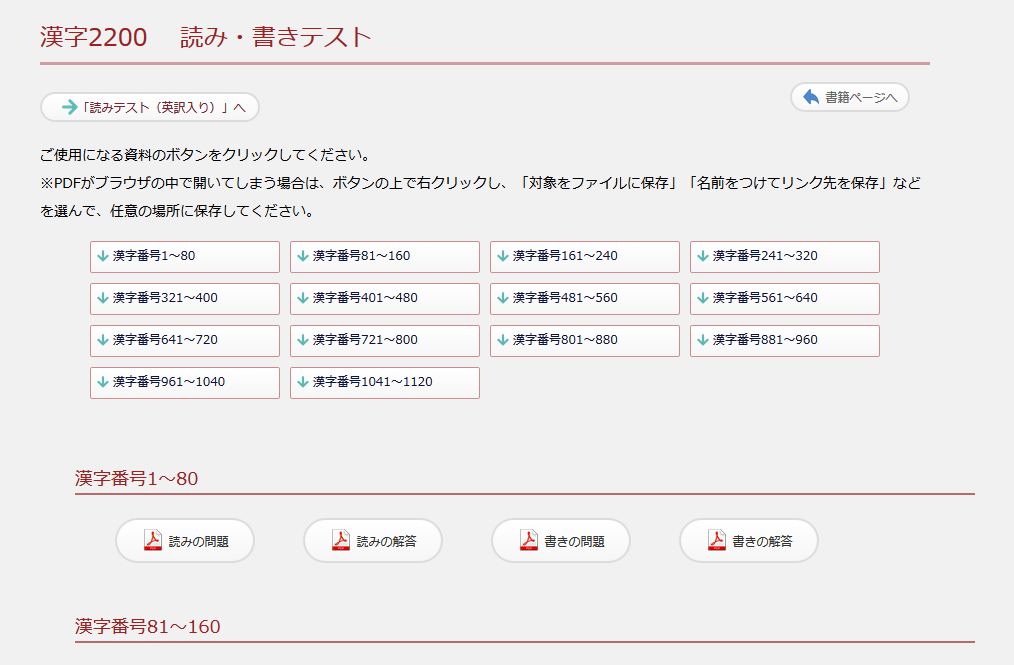 Sometimes, we would also work on the vocabulary and kanji questions on JLPT reviewers. To see some of my recommendations on N1 books, check this article.
Writing Assignments
Throughout the entire period of my tutorials on advanced Japanese, I also worked on applying the new vocabulary and grammar points that I learned by writing.
We did the first writing exercise in each chapter of our textbook. For each of the 8 selected vocabulary words or grammar points that appeared in the chapter, I would write two sentences that use it (16 sentences in total). This practice helped me deepen my understanding of language concepts through their actual usage.
I was given a week to complete the writing assignment prior to coming to class. That meant I should have done my own research on the selected vocabulary and grammar so that I would know how to use them in my own sentences. (Remember that I am not spoonfed in Sensei's class?)
I wrote my sentences on a Word file and then submitted them to Sensei by email. He would check my work and note any incorrect or unnatural usage, replacing them with a better expression in red font color. Finally, he would add one more sentence to each item for my review and enjoyment.
The sentences I wrote involved topics of my interest, either personal (family, work, studies) or current news (COVID-19, politics, economics). I wanted to express my thoughts, ideas, and opinions and make my sentences seem natural rather than forced. Sensei and I wrote sentences that were humorous, profound, questioning, or even criticizing.
When we finished all 26 writing exercises in the textbook, we shifted to using the N2 and N1 grammar books of Shin Kanzen Master (新完全マスター) to continue with the sentence-writing exercises. These were very engaging and fun for me to do, and I appreciate how much writing has been helpful for the JLPT review as well.
Writing practice was not limited to writing individual sentences. Sensei would sometimes give me composition practice once in a while, and he gave me the freedom to choose whichever topic I'd like. For instance, I wrote about one of my weekend vacations at Tagaytay for one full-length page.
Lastly, we made it a point to communicate only in written Japanese, whether through text message or email. Outside class, I often asked about the class schedule and the content of our learning materials (or just Japanese in general). These served as great writing practices too.
---
Summary and Key Takeaways
Overall, my tutorials with Sensei on advanced Japanese involved reading, writing, speaking, and listening. All four areas of communication were covered, but with a heavy emphasis on reading.
The variety made my lessons so interesting that sometimes, I would forget that I was actually learning high-level Japanese. I owe it to Sensei who made the sessions so fun and engaging.
Unlike the basic and intermediate courses, advanced Japanese did not have a fixed scope and structure. Instead, it mostly involved digesting native-level materials and media from a vast range of fields or topic areas.
So, which is the better option to learn advanced Japanese at NCF—the JLPT N1 review class or one-on-one tutorials?
As you might have guessed, the answer to that is: It depends. Here are some of the considerations that will help you decide:
Can you keep up with the fixed pace of the review class? If you need flexibility because you are a faster or slower learner than others, take tutorials instead.
Are you more concerned about passing the JLPT N1 first? The N1 review class works well for this purpose. If you want to learn other aspects such as conversation and writing, the review class is not the best venue for that.
Does your schedule allow you to attend the review class? Since the schedule of the sessions is fixed, you must commit to attending them if you enroll in the review class.
Of course, studying advanced-level Japanese requires a lot of self-study. It is not an option anymore; it is a MUST. Whether or not you sign up for lessons at a language school, you have to be proactive in studying on your own. The scope of the N1 level is too wide for it to be fully covered by any class.
But if you do need a helping hand in studying JLPT N1, then I highly recommend NCF as one of your choices. With more than 30 years of history in teaching advanced Japanese, NCF will surely guide you to success.
---
If you are interested to enroll at NCF, please send an inquiry through their official website using this link. You may also check the list of courses here.
Special thanks to Prof. Kenjiro Ogata for sharing his insights on this article.